5 Chic Down Wedding Hairstyles For Long Hair To Wear in 2022
Deciding how to wear your hair for your wedding can be overwhelming. Most hair and makeup artists will tell you not to stray too far from what you wear day-to-day, but if you tend to wear your hair out, you might feel like you want to wear a style that's a little more elevated for your special day. Need some help? We share 5 down wedding hairstyles for long hair for your consideration in 2022.
1. Bouncy Centre Part with Barrettes
This is a super-glam down wedding hairstyle for long hair that will suit modern brides who love to wear their hair with a centre part. Simple, but uber-chic, this is a timeless look that's high on impact. To create this look, ensure hair is super glossy – a gloss added to hair by a hairdresser, or glossy shampoo or conditioner will give your locks a mega-watt shine. Next, volumiser is added to the roots, stretching down through the hair so that there is a light application in the ends. Hair is then given a bouncy blowdry and backcombed at the roots. Once the style is in position, hair pins are put in place – we suggest thin barrettes or bobby pins in silver or gold – then hair is hairsprayed. If your hair is on the finer side, hair pieces may need to be added to create extra volume.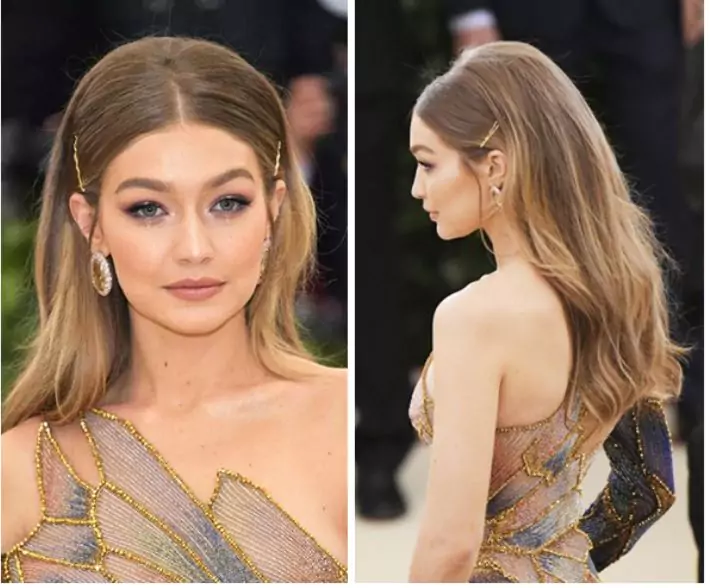 2. Centre Part with Clips Close to Part
This down wedding hairstyle for long hair is modern and fun, perfect for brides who want to wear their hair out, but don't want to have to worry about their hair or fringe blowing into their eyes. Hair is parted in the centre, then curled or blow-dried with a round brush. Pearl, gemstone or flower-topped pins work great with this look – placed about 1.5 to 2cms either side of the part.
View this post on Instagram
3. Glam Hollywood Waves With Side Part
This look features a side part and glamorous Hollywood-style curls that are pulled to one side. Featuring volume at the roots, hair on the side of the part can either be pulled behind the ear and hair sprayed, or be affixed using pins or stunning hair accessory such as pins or embellished crystal or pearl side hair clip. This is a great style for showcasing dangly earrings or shoulders and décolletage in an off-the-shoulder or strapless gown. If showing off earrings, we suggest keeping any hair clip here simple.
View this post on Instagram
4. Romantic Half Up Half Down
Not strictly a down wedding hairstyle for long hair, this style has hair very loosely pulled back just at the crown either side of a centre part, and loosely twisted or affixed with pins or hair comb accessory of your choosing, leaving hair out at the front for face-framing. This style is perfect for brides wanting a style that is romantic and carefree – perfect for floaty lace or floral-embellished gowns in an outdoor setting.
5. Half Up Half Down with High Pony
Another not strictly down hairstyle is this chic half-up-half-down with high pony hairstyle. With hair either slicked back, or parted in the centre and pulled back, this look features a pony that is pulled high on the head with backcombing or hairpiece added at the crown of the head. Small bits of fringe or hair can be pulled out at the front for a more romantic look, or kept swept back into the pony for a more sleek minimal vibe.
Ready To Book in For Your Chic Down Wedding Hairstyle?
If one of these chic down wedding hairstyles is for you, we invite you to come in for a hair and makeup trial with our professional stylists at Twidale. We can work with you to create the perfect style to suit your personal style, dress and venue. We offer full wedding and formal packages to make sure you're always looking your best. We also provide cut and colour treatments if you're looking for a new regular salon. So whether you have a special event coming up or just feel like a change, book an appointment with Twidale.