Colourful Makeup Looks to Perfect at Home Now Before Your Next Event
Neutral-toned eyeshadows and lipsticks have certainly made their mark in the beauty world these last few years. But we have been noticing more celebrities, influencers and runway makeup artists are embracing colour. While many people might be terrified of rocking a bold, coloured eye or lip look to a party or wedding, with no events pencilled in everyone's calendars for the next few months at least, now is the perfect time to step out of your comfort zone and try – and maybe even perfect – one of these colourful makeup looks!
Violet Lids
This is a colour we can get on board with. It's one of the easiest colourful makeup looks you can embrace – it may come as a surprise, but violets and purples are extremely wearable and universally flattering on all skin tones. Of course, it comes down to finding the right shade and hue for you.
From subtle lilacs to vibrant purples and deep plums, there's certainly a lot to play with. Application techniques can be as simple as applying a single eyeshadow across the lid, or it can be as technical as using multiple shades and textures. Ultimately, it depends on how much you want to play and experiment. Below are a couple of quick ways to embrace this the violet lid look.
Try applying a pigmented vibrant purple on the lid and blend out with a softer lavender tone in the crease. You can also apply a mix of the vibrant purple and lavender on the lower lash line for subtle smokey-eyed effect.
For a more dramatic smokey-eyed effect, opt for plums or dark purples on the lid and blend out towards the crease. Use softer plums to create a gradient effect on the lid. Use the same dark-toned eyeshadow on your lower lid, and then smudge a dark eyeliner (one that complements your chosen purple or plum shade) on both your upper lash line and waterline.
If you prefer a look that glistens or sparkles, apply a jewel-toned or violet to your lid and apply some sparkles or a purple shimmer to the centre of your eyelids.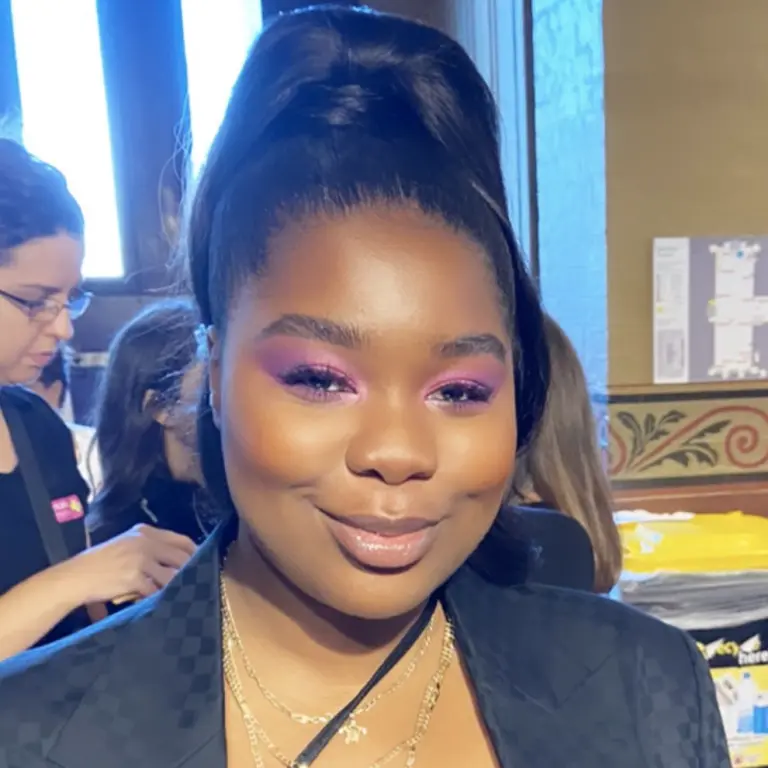 White Eyeliner
When thinking about colourful makeup looks, your first thought definitely won't be "white". But white eyeliner is a real trend at the moment and is a great neutral alternative to your traditional browns and blacks. You may have heard that applying a white pencil eyeliner to your waterline instantly makes your eyes look bigger and brighter. Well, the same rule applies when using it on your upper lash line. The classic winged liner is, by far, the easiest way to wear this look. The shape and size of your liner are up to you. If you prefer a thin line, you could perhaps try layering it on top of a black winged liner. For a more dramatic look, try expanding the shape so the colour covers part of your lid.
Rainbow Watercolour Effect
Can't choose just one colour for your makeup look? You're in luck because our third colourful makeup look is all about embracing the rainbow effect. Picture a watercolour effect on your lids and all around your eyes. Colours, techniques and textures are completely up to you. Look to Cara Delevingne or Lucy Boynton for inspiration.
Whether it's pastels, neons or vibrant colours, there's no specific application technique for this look. First, choose choose a selection of colours (could be two or three). Then cover different sections of your lids and bottom lash lines using a flat eyeshadow brush. Try and break up your lids into clear sections – for example, outer corner, centre of your lid and inner corner – and assign each section a specific colour. Once all of your colour is in place, soften the edges with a fluffy blending brush to create a watercolour effect.
Book in Advance to Try One of These Colourful Makeup Looks
Since the outbreak of COVID-19, all events and weddings have been put on hold. And while we may not be able to help you recreate one of these colourful looks in the foreseeable future, that doesn't mean you can't plan ahead! If you plan having your makeup done at Twidale, whether it is later in the year or next year, why not book in advance with a gift voucher! Get in touch to speak to our team about voucher options and booking for a later date.