Heatless Curls: 6 Ways To Create Perfectly Defined Curls Without the Damage
You've likely seen the trend on Instagram or TikTok, but heatless curls really are a great way to achieve beautiful, bouncy curls without exposing your hair to the heat of styling tools. Not only do heatless curls reduce damage to your hair, but they can also save you time and money. Whether you're after glamorous curls for a formal event, or more relaxed beachy-style waves, we share 6 of our favourite ways to create heatless curls in the comfort of your home.
1. The Plopping Method
The plopping method is a great way to achieve heatless curls. It involves using a cotton t-shirt or microfibre towel to scrunch your curls while your hair is still wet. This technique is great for those with a tighter curl pattern and less volume. To do this, simply apply your favourite curl-enhancing product to your damp hair, then gently scrunch your hair into the t-shirt or towel, wrapping it up and around your head. Leave it on for 20-30 minutes, or even overnight, to allow your curls to dry and set.
Great for: Waves or beachy hair rather than tight or defined curls.
2. The Bantu Knots Method
The Bantu knots method is a popular and traditional way to achieve heatless curls. This method, which originates from Africa as a way to protect curls or define frizz, involves dividing your hair into small sections, then twisting and knotting each section. This technique is great for those with a tighter curl pattern and more volume. It's left to dry overnight and unraveled in the morning for defined curls.
Great for: those looking for a more textured and voluminous look, or for those already with curly hair looking for more definition and control.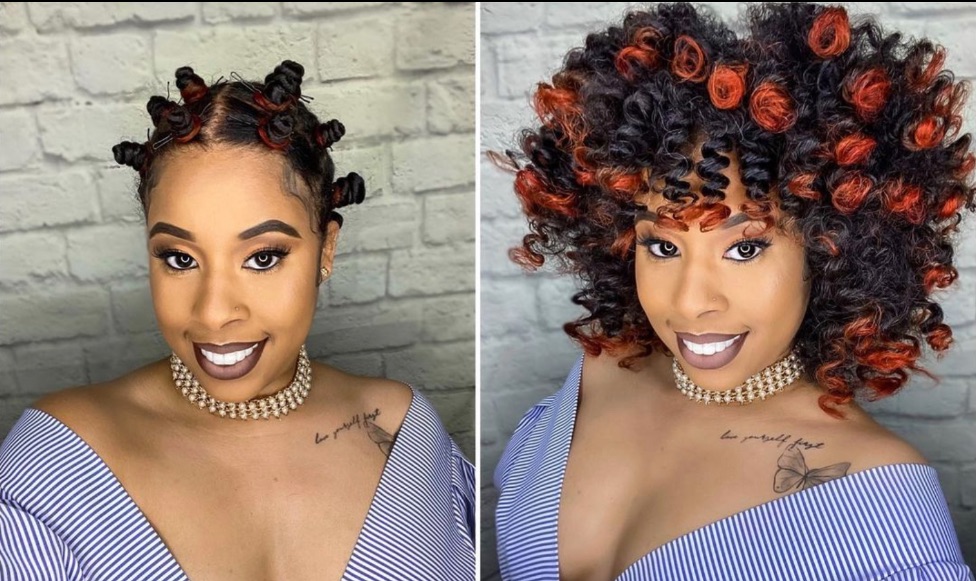 Credit: Instagram / @Naturally_curla
3. The Braiding Method
The braiding method is another great way to achieve heatless curls. This method involves braiding your hair while it is damp, and then allowing it to dry overnight.
To do this, braid or plait your damp hair into small or medium braids – the smaller and more braids you create, the tighter the curl. Larger, fewer braids will result in waves, rather than curls. Allow your hair to dry overnight and then unravel the braids in the morning for defined curls.
Great for: Wavy or mermaid style hair, or smaller more defined curls or waves.
4. Sock Curls
You can create curls similar to this using the sock method.
Sock curls involves wrapping your hair around socks and leaving it overnight. To do this, cut the toe off a pair of clean socks and roll the sock into a spiral shape. Take a small section of hair and wrap it tightly around the sock. Secure the end of the hair with a hair tie, scrunchie or bobby pin. Repeat the process with the rest of your hair, using multiple socks. You can secure a bunch of the "sock curls" together for ease at the end, making sure not to secure too tightly so that it doesn't 'dent' the ends. Leave the curls to dry overnight. Remove the socks in the morning for bouncy curls.
Great for: Those who want to achieve a more voluminous look.
View this post on Instagram
5. Bath Robe Belt Curls
This one can be done with a silk or fluffy bath robe belt, however, a silk belt will produce tighter, smoother curls, while a fluffy belt will result in looser, less smooth curls.
To create bath robe curls, start with hair that is damp, and create two sections of hair at the front of the head either side of a centre part, and then two more at the back of your head. Place the belt on the top, and in the middle of your head, just behind your ears to separate the front from the back. You may need to secure it in place with a butterfly clip.
Section by section, start wrapping your hair around the belt like you would a curling iron. You can really do this in any fashion, but different methods will produce a different look, so it's worth having a play until you achieve a look you love.
Tie with a scrunchie at the end, or alternatively, twist into two buns and wrap the remaining belt around the buns. Go to bed, and remove when you wake up. Don't forget to brush out or set with hairspray as desired.
Great for: Similar to the sock method, this creates a bouncy, voluminous look.
View this post on Instagram
6. Big Velcro Rollers
Big velcro rollers are a popular heatless curling method that has been around for decades. They were first introduced in the 1960s as an alternative to traditional hot rollers, and have since been a staple in hair styling. They come in different sizes, are easy to use, and create beautiful bouncy curls in line with what you'd see on a Victoria's Secret runway.
To use your velcro rollers, simply section damp hair with each roller, making sure to brush each section so the hair doesn't get tangled in the roller. Roll the rollers up towards the head, finishing on the scalp – velcro rollers are self gripping, so the hair will automatically secure itself in place, however thicker hair may need a bobby pin to secure into place. Allow your hair to dry overnight and then remove the rollers in the morning for bouncy curls, carefully sliding the rollers out one by one in the same direction the hair was rolled.
Create polished, rounded curls similar to this style with velcro rollers
Great for: those want to achieve a more polished, voluminous look or blowave. It also works best with shorter to mid-length hair, and hair that's not super curly – super long or curly hair may get tangled, or run out of velcro to affix to.
View this post on Instagram
Struggling To Create Heatless Curls At Home?
If you're struggling to achieve the perfect curls at home, visit  Twidale Hair and Makeup. Our team of experts are based in Brisbane and specialise in helping our clients achieve the perfect updos and styled creations for any event. We will work with you to understand your hair type, curl pattern and desired style, so that we can create the perfect look to suit you, and your special occasion. We also provide cut and colour treatments if you're looking for a new regular salon. So whether you have a special event coming up or just feel like a change, book an appointment with Twidale.