Formal Hair Brisbane: Headpieces and Hair Accessories
Polished and beautifully done hair looks fantastic on its own, but if you really want to up the ante on your special-occasion outfit, then a headpiece can complete the look and tie everything together, in a blink of eye. Headpieces are big beauty business, and with good reason. Whether it's a bridal piece to compliment or attach a veil to, or a floral crown to help celebrate your hen's party with, more and more women are using hair accessories on their special day. It adds to the all-important essence of feeling like a princess, and differentiating yourself from the rest of your guests.
The Twidale Team was recently fortunate enough to do hair and makeup on a campaign shoot for an amazing local brand 'Shut The Front Door', who are adorning women and brides Australia-wide with their divine range of bespoke headpieces. It was after this shoot day that our very own Creative Director Jo Twidale decided she must wear one for herself at her very own bridal shower, with astounding results, and when a woman who see's as many hair accessories as Jo is stopped in her tracks, you know there is good reason as to why!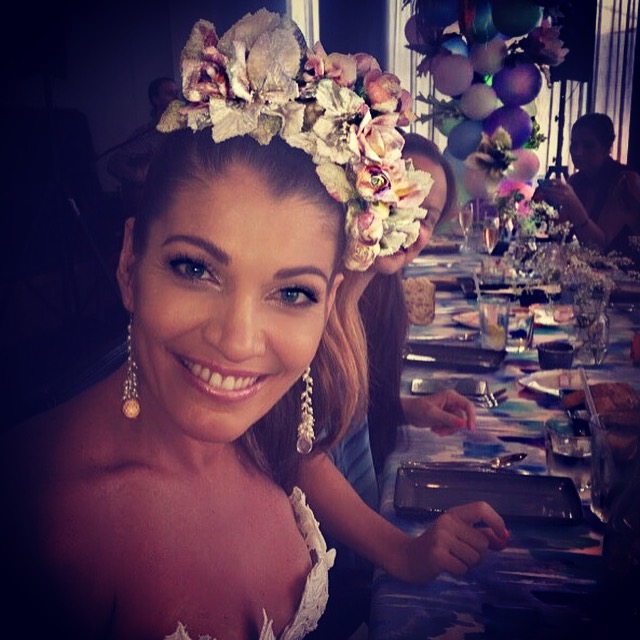 We asked the genius behind Shut The Front Door Heidi Lucinda Holmes for her tips on custom couture millinery, and what the insider tips and tricks are to make a headpiece work for you.
Heidi, we LOVE your pieces. What is your background, and where do you find your inspiration?

Thank-you so much! It was after studying a wedding consultancy course that I did back in the UK during the lead up to my own wedding, which first started me on my journey. After the course my husband and I moved to Australia and I got a job managing a designer wedding dress store on the Sunshine Coast. In this role I was taught how to create the flowers for some of the dresses and before long it became requests for their headpieces too. I have always loved fashion and design, and after a couple of years in this role I wanted to create my own range. I was so passionate about wanting to learn all I could about the industry that I studied and completed a 3-year millinery course.
My inspiration mainly stems from fantasy, fairytales, nature and history. Growing up my family frequently visited stately homes and I've always had an interest in costumes, detail and design.
Bridal is what we do best, so what advice would you have for Twidale Brides. Do you pick the dress or the headpiece first?
I feel that the dress is such an important aspect of many brides day, and the style of the dress really dictates where you can go with the headpiece. 
For example, If you are wearing a beautiful full ballerina skirt you can really add drama to your look and go with a stunning ornate crown. If it's more casual beach wedding, you can add a subtle element with a delicate chain or halo piece
I always recommend to brides that you should stay true to yourself. It comes down to personality and what you are naturally drawn to, and what you are 100% comfortable wearing.
Should you have decided whether you'll wear your hair up or down before choosing an accessory, or (with the help of your stylist) do you decide on hairstyles based on the headpiece?

I don't feel like you should 'have to' do or wear something a particular way just because it's a wedding day. If you wear your hair down every day without fail, then you should probably wear your hair down at your wedding. You want your partner to look at you and recognise you for you, and most importantly you want to be comfortable and be able to look back at photos and feel like it was you there on the day.
My pieces have been designed so they can be worn with either your hair up or down. If you have a hairstyle in mind, your headpiece should compliment that. But also keep in mind that if you choose to have your hair down, it doesn't have to mean a 'boho' styled accessory!
Is there a rule of thumb about wearing particular jewellery with headpieces?
If you have a sentimental / classic / heirloom piece that you simply 'must' wear, then by all means wear them. But your face needs to be the main focus and you don't want to detract from who you are.
It's important to remember that you don't need everything! If you're wearing a headpiece, a necklace and the dress this might be enough. If you're wearing a simpler headpiece, or perhaps the piece is sitting further away from your face, a smaller pair of earrings might compliment and tie it all together. Remember less is often more, and again you don't have to pile everything on just because it's your wedding day!
We've all been in situations when we've gone to the races or an event wearing a store bought fascinator, and have had to spend the day adjusting it. Whether it was too heavy and kept slipping, or the comb or band wasn't sturdy enough and it felt like it was wobbling about all day – it's just never a good feeling. Weddings and Hen's parties alike are bound to involve many hugs and kisses, photos with your head pressed up against your nearest and dearest, and with any luck – plenty of dancing. How can you ensure your hair accessories are going to be comfortable for your event?
All of my pieces have combs and/or ribbon loops, and an experienced hairstylist should know how to secure the hairpiece to your hair for the day. All of my pieces have been individually designed and created so that they won't be too heavy, meaning it's unlikely they'll slip or wobble.
It is important to note that it does come down to the preparation of your hair too. Even a sleek hairstyle will require some volume and backcombing to secure the piece in to, so don't be alarmed when your stylist starts teasing your hair!
Thanks so much Heidi!
Choose a headpiece and make sure that it reflects you, your personal style, your wedding or party theme, and make sure that it's something that you absolutely love! Like Heidi said, you don't want any one element to take away attention from anything else, and especially not your natural beauty on your day of days!
To view more of the Shut The Front Door range, head to their website [here] and be sure to contact Heidi to make your special event headwear dreams come true!
Love, Team Twidale x