Try These Party Hairstyles During the Festive Season
The festive season is right around the corner, which means lots of parties and family functions! It's always the perfect time of year to dress up and try some new makeup looks and hairstyles. With that in mind, we've rounded up the must-try party hairstyles for Christmas and New Year's Eve.
Embellished Updo
From hair clips to elaborate headbands, one of the biggest party hairstyles for 2019 is a simple 'do paired up with embellished accessories. Not only do they zhuzh up the most basic hairstyle, but they are particularly useful during those humid days where minimal styling efforts are preferable. If this is a look you want to try, here are our top tips for achieving it.
Firstly, opt for a simple hairstyle. We suggest either a low bun/ponytail or hair out. Next, is to choose your accessory of choice: the padded hairband or the hair clip.
A velvet headband is perfect for those who prefer to keep things elegant and minimal. If you're after something with a bit of pizzazz, an embellished headband with pearls or crystals shall do the trick.
There are so many great hair clips and barrettes available at the moment; pearls, crystals, acrylic with glitter and gold metal. Over-sized pearl clips will definitely make a statement. For those with voluminous or curly hair, the bigger the better, we say! If you prefer a sleek low bun, slide a simple barrette next to it. For the ultimate hair clip style, try stacking a selection of embellished bobby pins and barrettes on one side of your hair for maximum effect.
High Ponytail
The humble ponytail is one of the easiest party hairstyles to try this Christmas. However, it comes with a twist. We are taking inspiration from the 60s "I Dream Of Jeanie" voluminous ponytail and wrap-around finish at the base. This hairstyle made a resurgence in the 90s, and now, it's back again. We've seen celebs from Bella Hadid to Kylie Jenner rocking this ponytail trend, and we want in!
For an ultra-sleek vibe, blow dry your hair and brush it back into a high ponytail. Before securing your ponytail, take a firming hairspray, mist your hair and brush any fly-aways. Take a small section of your ponytail, wrap it around the base and secure with bobby pins. For a real 90s-inspired look, try creating a dramatic side part instead of slicking it straight back, and make sure the ends are slightly curled and voluminous.
60s Inspired Half-Up Flip
Similar to the 60s-inspired ponytail is the half-up 'do with flipped curls. While this style has been seen on lots of women with hair that just hits the shoulders, it works really well with longer hair too. Rather than pulling all of your hair into a slick ponytail, pull a small section of your hair high into a mini ponytail. The rest of your hair should be straight except for the ends which should flip out. If you prefer, you can give your entire hair a subtle curl – which is still a very 60s-inspired look.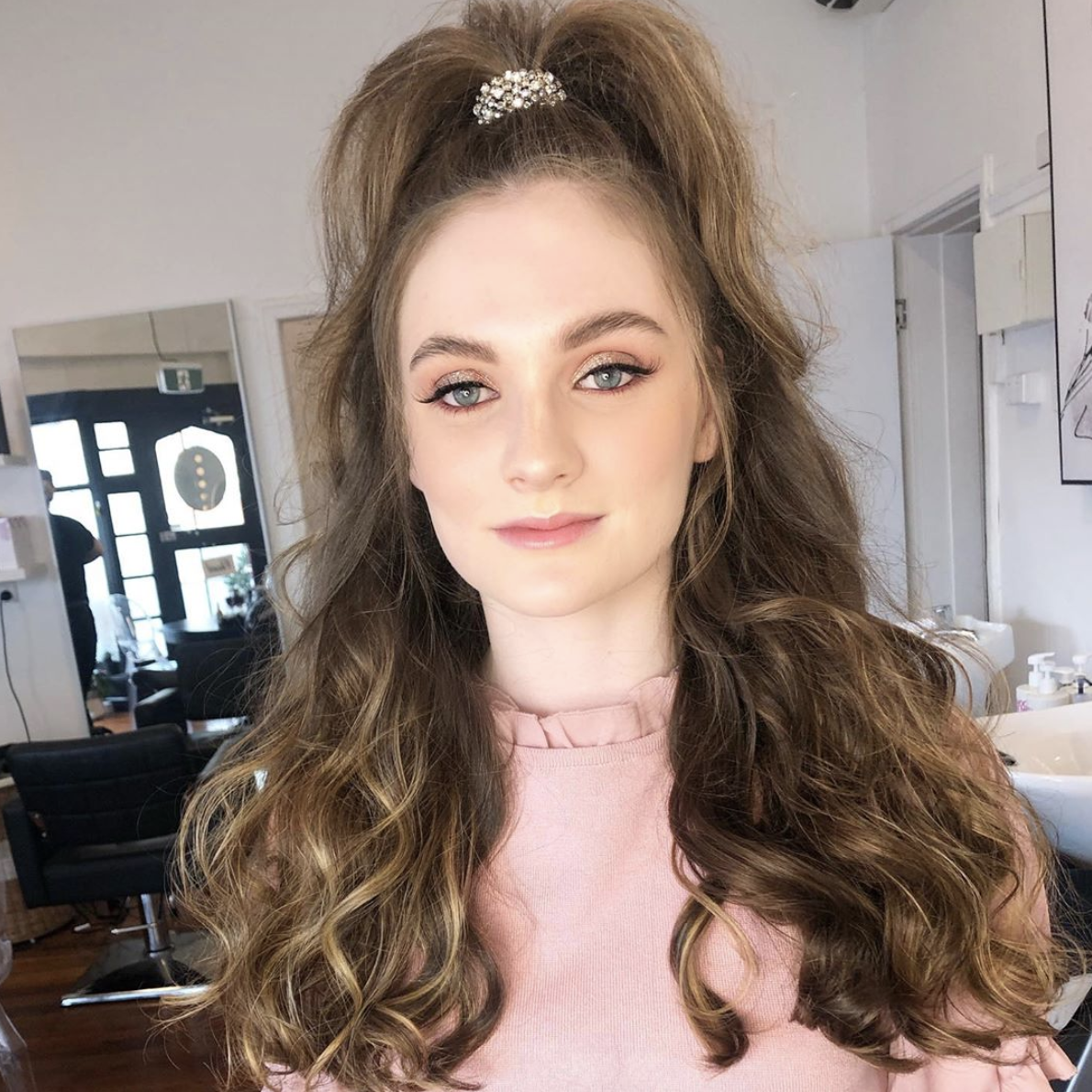 Simple Bun
Party hairstyles do not need to be fancy or even trend-based. Sometimes, classic is best! There's nothing better in our hot summer weather than keeping your hair off your face. So, beat the heat with a simple bun hairstyle. Whether it's a top knot, a low bun or a classic chignon, this easy yet elegant hairstyle will look great with a pair of statement earrings.
Try These Party Hairstyles With Our Hairdressers
Want to try one of these party hairstyles or any other hairstyle for your Christmas function? Our team of elite Brisbane hairdressers can help you create a look that will last the entire night. We can also create a long-lasting heat-proof makeup look for your function. Get in touch to organise a hair appointment or reach out to us on Instagram.