The TWIDALE Experience – Private Hairdresser and Makeup Artist in a Secluded Space
Ever walked out of a hair and makeup appointment feeling more stressed than when you walked in? Busy, overwhelming and out-in-the-open spaces are exactly what we've veered away from at TWIDALE. Here's what our clients love about our private hairdresser and makeup services.

The TWIDALE Space
Our new Brisbane salon is located in an upstairs terrace in the heart of Fortitude Valley, at 23 Agnes Street. We've set up the space to feel like a home away from home – a private, secluded haven where you can completely relax. It's filled with couches, coffee tables and cosy chairs for you to sit back in while you wait for your appointment.

The TWIDALE Experience
We do everything we can to make sure our clients feel at ease when they come to TWIDALE. Here's what some of our clients have to say;
"My experience with TWIDALE was completely positive, easy, fun and relaxed. Jo and Courtney were fabulous. They were so professional and made me feel very special and gorgeous."
"I loved how you and the girls had fun with us while getting ready, and really contributed to the fun happy vibes. I will be highly recommending you to all my friends in future, I can't thank you enough!"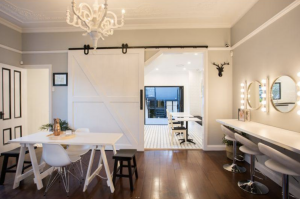 Why Our Clients Love Coming to TWIDALE
Something we hear from our clients regularly is how much they love getting their hair and makeup done in a private space. At our salon, there's no big glass window where people walking along the street can see you with a head covered in foils. This is especially important for our high-profile clients who have to worry about people snapping pictures of them. At TWIDALE, it's just us and you in our beautiful, second-storey Victorian Terrace.
If you'd like an even more private hair and makeup experience, our team offers mobile hair and makeup services. We often travel across Australia for weddings, magazine shoots and any special events. We're happy to set up in any home or commercial space to get you looking your very best. Just make sure there's ample lighting so we can do our best work.

Book Your Appointment
For a private hairdresser or mobile hair and makeup experience, our Brisbane hair and makeup artists are here to help. To book a hair and makeup appointment with the beauty experts at TWIDALE, get in touch by emailing us at hello@twidale.com.au or calling 0433 414 141. If you have any questions about our services, fill out our enquiry form and we'll get back to you as soon as possible.